Like many brick-and-mortar retailers, you probably have developed an online presence and are maybe embracing the multichannel trend. As the vast majority of shoppers turn to online search before visiting a store, it is indeed a necessary move.

However, these new channels give you more visibility but also can get you exposed to more competition.
If you want to stand out from the crowd, data shows that you need to offer a personalized service to your customer. According to a recent consumer study led by BRP, 79% of the customers indicate that personalized service is an essential factor in determining at which store they choose to shop. Offering tailor-made services and products is becoming increasingly important to reach your traditional customers.
If you carefully think about it, it will also open your business to new opportunities and will get you organized to expand your profit pools. You will be able to attract or better serve new types of customers like, for instance, corporate clients.
Build a personal connection
Retail is transforming. Consumers have complex needs and welcome more complete services to fulfill them. It's an excellent opportunity to move away from the pricing competition where the big online retailers and marketplaces will always bring prices down.
Consumers expect personal treatment
According to an Accenture study, nearly all consumers (91%) seek experiences where they are recognized and provided with relevant offers and recommendations. Conversely, 52% are more inclined to change if a company doesn't offer personalized communication.

Of course, leveraging new technologies with well-organized data and smart loyalty program is key to satisfy this expectation. However, offering a personal touch to customers starts with being human. Through an authentic relationship, you can understand better what they genuinely value and do what it takes to ensure they realize their expectation
Offer more than what you have in store
Helping your customer achieve their ideal experience requires thinking beyond physical or digital shelf space.
Offering this in-person service they can't get online is only the first step. Providing new services to extend the relationship and get involved in your customer's projects will make a crucial difference. For instance, a furniture store can offer design services to help consumers improve their homes. If you are into kitchen supplies, you might want to curate recipe ideas or even organize cooking classes.
Your customer will value this type of services. You can decide to put a price tag on them or leverage this unique relationship to drive your sales.
In some cases, these services might take a recurring form, ensuring constant cash flow, e.g., membership, product subscription, courses.
QuoteMachine + Lightspeed POS to power modern retailers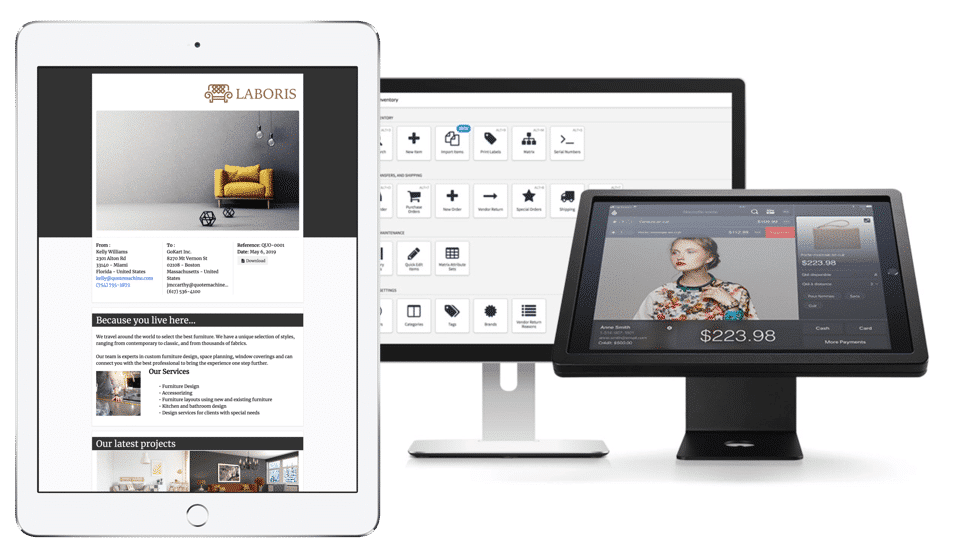 QuoteMachine's online quotes and invoices help businesses sell more and collect payments easily. The modern retail world requires solutions like QuoteMachine to power new services that extend the relationship with consumers.
Lightspeed POS is the best all-in-one retail Point of Sale system for small and medium businesses. QuoteMachine's deep software integration with this leading POS software brings modern retailers further.
Learn more about how QuoteMachine can benefit your business.